If you're unfamiliar with cock rings, you would be mistaken for thinking they are an adventurous indulgence more related to bondage than average, everyday sex. But don't be fooled – you definitely don't have to be kinky to use them.
Cock rings, also known as penis rings, come in many shapes and forms. If you haven't tried one yet, add it to your 'to-do' list now. They make a great addition to your sex life and are easy to experiment with, whether you're new to using sex toys or looking to expand your existing collection.
Want to know more about cock rings? Read our cock ring guide to find out everything you need to know, including cock ring benefits and how to use cock rings. If you want to find the perfect cock ring for you and your partner to enjoy, check out the range of Durex cock rings now.
What are cock rings?
If you've never used a cock ring before, you may be wondering – what are cock rings? Cock rings, sometimes referred to as penis rings, use a ring of material that sits around the base of the penis to enhance both masturbation and sex. They vary in shape and style but are usually made from stretchy material that makes them easy to roll onto the penis. There are different types to suit different preferences – some are plain whereas others vibrate. Most cock rings are also fully compatible with condoms and lubes, making them a very versatile sex toy – just be sure to read the instructions before use!
What are cock rings for?
Cock rings are used by people with a penis predominantly to improve their sexual experience. Use of a cock ring can allow the wearer to enhance their erection. A good cock ring, when applied correctly, is thought to make the penis harder, appear larger and assist in making an erection last longer.
Cock rings benefits don't only affect the wearer – some cock rings also vibrate, meaning they can create a sexual buzz for your partner during penetrative sex. This way both individuals are stimulated during penetration, adding an extra layer of excitement compared to sex without a cock ring.
How do cock rings work?
Cock rings are sex toys that are worn by people with penises – they circle the penis, usually at the base of the shaft, testicles, or both. In short, cock rings are designed to restrict the blood flow out of the penis just enough to keep it harder than normal. In no way does the cock ring cut off circulation, rather it just slows it down. The cock ring purpose is to help the wearer get a harder erection that lasts longer and feels firmer than a normal erection.
Cock ring benefits for the wearer
Cock rings are designed with the explicit intent of improving the sexual experience during both masturbation and penetrative sex. Cock ring benefits for the person wearing them can include the following:
Make an erect penis look larger
Make an erection harder and more full
Can make an erection last longer
Can intensify sexual pleasure during both masturbation and sex
You may feel uncertain about using a cock ring on your penis – after all it's a sensitive area. Rather than dive into a cock ring with all the bells and whistles, start off with a basic cock ring to make sure you are comfortable with the feel of it around your penis. If you find you enjoy the sensation, you can begin to explore other options, such as vibrating cock rings.
Cock ring benefits for your partner
Although not designed to be worn by people with a vagina, use of a cock ring during vaginal sex can have a lot of benefits, especially if the chosen cock ring is a vibrating cock ring. Cock ring benefits for vaginal sex can include:
Enhanced sexual pleasure if the cock ring is a vibrating cock ring
Longer-lasting penetrative sex
Stimulation of the clitoris can help climax
The vibrations can have similar effect if worn during anal sex, as the vibrations add another sensation to penetrative sex – if that's something your partner enjoys.
Either way, it's a good idea to start off with a basic cock ring before moving onto the vibrating ones to make sure it feels good to you – and always ask your partner if they're happy with you using a vibrating one if you choose to explore that option.
How to put a cock ring on
What makes cock rings so great is that they are a small, discreet sex toy that is easy to apply. Once you've read the instructions on the cock ring packaging, follow our simple steps on how to fit a cock ring to make putting it on as easy as possible:
Remove the cock ring from its packaging and ensure you have any extra products that you want to use (e.g., lube) ready at hand.
Take your penis in one hand, stretch the cock ring over and position it at the base.
Make sure you are comfortable. Ensure the cock ring is not pinching – it should fit snugly, but not completely cut off the blood flow.
If you have chosen a thrilling vibrating cock ring, then do not turn the vibrations on until the cock ring is in place. This should make the whole experience run more smoothly and you won't waste the battery during application.
It's important to make sure the cock ring isn't too tight – if you feel numb, remove the cock ring and try a larger size. It's a good idea to give pubic region a shave before applying the cock ring to avoid trapping any hairs (ouch!).
Cock rings and condoms
If you are wondering whether you can wear a cock ring and a condom together at the same time – the resounding answer is yes – just ensure you read the pack instructions beforehand!
To use a cock ring with a condom (a condom ring), simply apply your condom as you usually would, and then put your cock ring on using the above steps. Your cock ring should sit over the condom, not the other way around. This means you can help to protect both you and your partner against sexually transmitted infections (STIs) and unwanted pregnancies, whilst reaping the cock ring benefits of fuller and longer erections compared to no cock ring.
Uncertain about how to put a condom on? Head over and explore our step-by-step guide to putting on a condom for everything you need to know.
How long can you wear a cock ring for?
Cock rings can be worn for up to 30 minutes at a time, not for any longer, and you should always wait at least 60 minutes between uses. Prolonged cock ring usage could cause damage to the penis, however, don't let this put you off. Just make sure it's fitted correctly and that you don't use it for longer than the recommended amount of time.
If you do experience pain or discomfort during normal cock ring usage, then simply remove the cock ring and give your penis a break from stimulation. If you experience any long-term discomfort, then seek advice from your GP or local sexual health clinic.
Which cock ring should i buy?
Cock rings come in multiple shapes and thicknesses, so have some fun exploring what feels good to you, and your partner if you choose a vibrating cock ring. Trying the Durex Intense Vibe Cock Ring can be a good place to start.
Durex Intense Vibe Cock Ring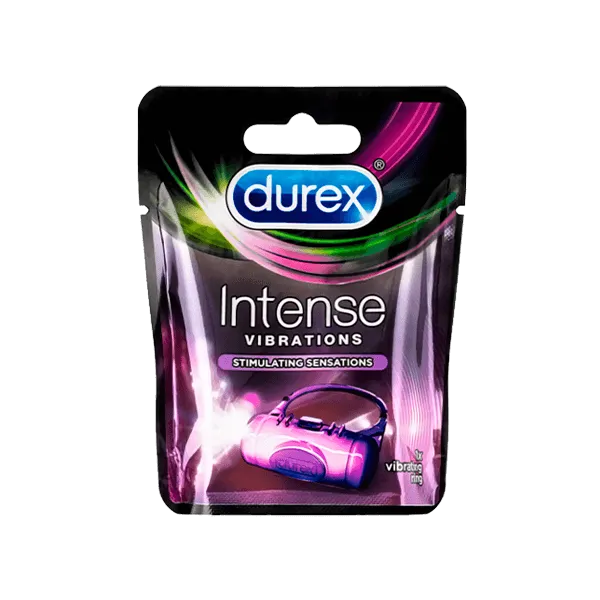 Like the name suggests, the Durex Intense Vibe Cock Ring provides up to 20 minutes of intense vibrations. When using a vibrating cock ring for vaginal sex, the deeper you thrust, the more vibrations your partner will feel against their clit – it's a win-win situation. Why not experience the world of vibration together with our Intense Vibe Cock Ring? Combining a cock ring with a small but powerful, discreet vibrator, it's almost certain to leave you both in a state of orgasmic bliss.
Shop the Durex Intense Vibe Cock Ring now.
Why are cock rings so great?
Put one on and see for yourself! You might find that just the act of donning a foreign object on your penis is arousing – if you like it, then you should put a cock ring on it. Trying new things is also a good way to build intimacy with your partner, giving you both an opportunity to explore new sensations and heighten the pleasure together. Using a cock ring can broaden your horizons as you can try new positions that enhance the effect of the cock ring.
Cock rings are designed to help you stay harder for longer and can sometimes make your penis look bigger. They're small, discreet, and not overwhelming like some other sex toys can be. What's not to love?!
To add more pleasure and variety to your sex life, explore our range of sex toys. Want to learn more about all things sex? Head over to our Explore Sex blog to find out about everything from oral to anal.
This article is for general information only and not intended as a substitute for medical advice. When using a condom, remember no type of contraception is 100% effective in preventing pregnancy, HIV, or sexually transmitted infections.
Always read the label and follow the directions for use. Reckitt Benckiser, Auckland.
RKT-M-04823.