What is a latex-free condom?
First, we need to answer – what are condoms made of? Well, latex is the material that was originally found to be the best all-round option for making a condom, but unfortunately some of you are allergic to it and prefer to use non-latex condoms. The difference between latex and non-latex condoms is that latex-free condoms are made from a non-latex material. Durex Real Feel non-latex condoms are made from polyisoprene, a material that makes them suitable for people who have an allergy to natural rubber latex proteins.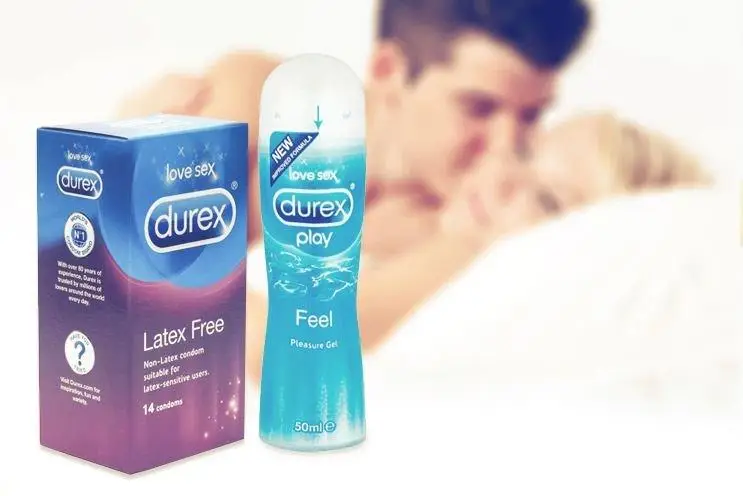 Why would i need a latex-free condom?
If you or your partner have an allergy to latex, any adverse reactions are in the last place you want them – your nether regions, and anyone who suffers will tell you that an itchy, uncomfortable rash down there is not a good way to enjoy sex. If you know for sure it is a latex allergy, these are an option for you. If you are unsure about the cause of your rash, be sure to have it checked out by a doctor or health worker ASAP! Latex-free condoms allow those of you with allergies to latex condoms to enjoy a latex-free sex life.
Do latex-free condoms feel better? You'll be pleased to know that non-latex condoms are not just designed for people who experience allergies to/are allergic to latex either, they are popular with many people who just love the feel of them and the different sensation they bring. The Durex Real Feel condoms give you a natural skin-on-skin feeling and can offer increased intimacy and connectivity. You might just prefer them as your regular condom having had no allergic reactions to latex at all.
Faq about latex-free condoms
Do latex-free condoms prevent STIs?
There is a difference between latex and non-latex condoms in terms of material used, but they both help provide protection against sexually transmitted infections (STIs) and pregnancy. Latex condoms provide a barrier to prevent small organisms, such as STIs and sperm, from being transferred from person to person. Remember, no method of contraception works 100% against pregnancy, HIV or STIs.1 Latex-free condoms are no different – they provide a barrier to help prevent the transmission of STIs and semen but they cannot guarantee 100% protection. Latex condoms are often the condom of choice since they are easy to manufacture, but latex-free condoms provide protection too.1
Are non-latex condoms comfortable?
When it comes to latex vs non-latex condoms, both can provide comfort provided you get the right fit for you. But do latex-free condoms feel better? Well, if you or your partner have an allergy or are sensitive to latex, then most likely. Not only do non-latex condoms provide comfort in knowing that they have minimal potential to induce an allergic reaction to latex, but they can also provide more of a skin-on-skin feeling compared to latex condoms. You may also notice that they have a more comfortable fit and less odour compared to latex condoms.2
Which Durex condoms are latex-free?
Durex Real Feel Condoms are a latex-free condom designed to provide a natural skin feeling during sex to maximise pleasure. These condoms are made from polyisoprene, a technically advanced non-latex material suitable for people who have an allergy to natural rubber latex. However, people without a latex allergy can also enjoy Durex Real Feel Condoms for the natural skin feeling they provide. They are available in a regular fit (nominal width: 56mm) with silicone lube for extra comfort. So, if you're looking for a real-feel condom that's also latex-free, give Durex Real Feel Condoms a go.
This article is for general information only and not intended as a substitute for medical advice.
Always read the label and follow the directions for use. Reckitt Benckiser, Auckland.
RB-M-105982.
References:
Mahdy H, et al. Condoms. 2022 Apr 21. In: StatPearls [Internet]. Treasure Island (FL): StatPearls Publishing; 2022 Jan.
Gallo MF, et al. Cochrane Database Syst Rev. 2003;(2):CD003550.